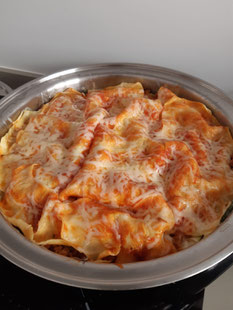 🛒 Of the purchase (for 4 people)
1 marrow
1 tomato
1/4 of cauliflower
250gr of lamina mushroom
1 berengena
1 great carrot or 2 small ones
1 beet
texturizada soybean (1 glass)
170gr of tomato concentrate
fried tomato
lasagna laminae
shredded cheese
salt of the Himalayas and oregano
Way of preparation:
We preheat the furnace to maximum power.
Â
We place the soybean texturizada in a medium bowl and we covered it with the tomato concentrate, salt and oregano. Next we covered it with water around where the soybean arrives, leaving it to rest so that it absorbs the water and that it is swollen. If the water is absorbed very fast, to throw a little more of water so that it takes volume. Not to exceed water so that there is not leftover. The aspect must of being as the one of the perforated meat.
Â
We cut all the vegetables to laminae not very fine, so that when baking they are not without body.
Â
In a container for furnace, we covered the bottom with fried tomato and oregano. Next we placed a lasagna lamina layer. We used of maize and rice, that does not contain gluten and in addition it does not need previous baking.
We cover with vegetable layers, the order of vegetables is not important, we finished with the texturizada soybean, laminae of lasagna and covered with fried tomato and oregano. We repeat the process until using all the ingredients.
Â
We finish with a fine layer of shredded cheese and oregano.
Â
We lower the temperature of the furnace 130º and cooked during 45min without using grill.
Â
To serve and to enjoy! 😍😋💪
Â
Recommendations:
To choose vegetables of different colors from the taste, so that we include in a single food, all benefits following the color. You can put 4, 5, 6 vegetables different from your pleasure.
Â
To choose the packaged, most healthful foods possible. As example, fried tomato packaging in the market are infinity and some even with sugar.
Â
For the shredded cheese, I recommend to you to use a cheese wedge and to shred it you [email protected], will leave to you economic and will be more healthful. If you want that he is less caloric, he uses light cheese.
Â
If you are loving of spices, you can use anyone of them to your pleasure. The prescription we have made it with oregano give that flavor him that to the small ones of the house is to them familiar. You can even dust vegetables, not only the tomato and the texturizada soybean, so that the flavor is more intense.
Â
Â